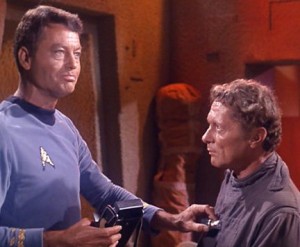 Star Trek had it right, I think. While Doctor McCoy certainly relied on his trusty Tricorder to help him diagnose his patients (at least his human ones), he then used his training and experience as a physician to apply treatment. And this is happening in the year 2266.
In the same way, I don't think mobile health applications are going to diminish the role of physicians any time soon. On the contrary, I believe that, once market conditions evolve to where industry leaders are clearly established and their technologies widely accepted, physicians will be able to do their jobs more effectively than ever before. Here's why:
First, there's the "Tricorder effect." Everyone knows how unreliable human recollection and reporting is, even when it comes to things as important as diet, exercise, medication and monitoring vital signs. Mobile health devices, when used properly, don't forget (or lie) and therefore provide the physician with a realistic set of data from which to evaluate patient status. In addition, mobile health technology will suggest diagnoses and treatment and therefore expand the physician's knowledge and treatment choices.
Second is the reapportionment of a clinician's time. Mobile health can cut down on time-consuming patient office visits, without diminishing the level of care. And with quicker access to more accurate patient data, a doctor can expediently determine treatment and therefore may be able to accommodate more patients – a huge plus everywhere, but especially in areas with a shortage of physicians. These increased efficiencies will also have a profound effect on the roles of other healthcare professionals.
Mobile health is presenting us with new tools. We will continue to rely on physicians for their skill in how to use these new tools.