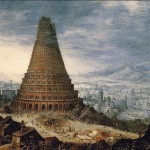 In the old story of the Tower of Babel, the people constructing a tower to the sky were stymied by a curse that made each of them speak a different language. Their inability to communicate effectively derailed the project. (And, according to some legends, explains why there are different languages in the world.)
Today, the field of mobile health applications is experiencing a similar curse. While there are zillions of applications, there is a pronounced lack of integration between them. Experts concede that while there are many innovative and useful technologies that have been and are being developed, their inability to "talk" to one another stands in the way of realizing the tremendous synergy that can come from compatibility and easy interactivity.
In an effort to encourage mobile health developers to "speak the same language," the Heritage Provider Network, partnering with UCLA, is sponsoring a $100,000 challenge. What distinguishes this challenge is that submissions must use the open software developed by the non-profit company Open mHealth.
Rather than hindering innovation, broad agreement on
program integration was spectacularly successful
By encouraging use of open architecture software, Heritage Provider Network is hoping new applications will make it much easier for patients (especially those with multiple conditions) to record data and share it with their caregivers.
I certainly applaud this effort. I'm old enough to remember how much time I wasted with my first computer systems, hassling with "Mac vs PC" incompatibilities or Excel/Lotus and MSWord/WordPerfect conflicts. The benefits of compatibility eventually (for the most part) overcame developers' concerns about exclusivity. Rather than hindering innovation, broad agreement on program integration was spectacularly successful in advancing the pace and efficiency of technology and was good for the market in general.
The winners of the challenge will be announced at the Health Datapalooza, being held in June in Washington D.C. It could be the best $100,000 anyone has spent on advancing mobile health initiatives.