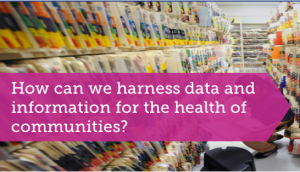 Everyone cares about health. That's why the Knight News Challenge is offering a share of more than $2 million for "innovative ideas to harness information and data for the health of communities." The Health Challenge follows up the successful Open Government Challenge, which earlier this year provided more than $3.2 million to fund ideas designed to improve the interaction of the government and the public.
Don't think you have a chance? Think again. The Health Challenge was opened on August 19th. As of this writing, it's received 55 entries. Heck, I've been in corporate conference rooms with more people than that. Now think about being in such a room where you get a great opportunity to present your idea to heavy hitters such as the Robert Wood Johnson Foundation, the HealthData Consortium, the California Healthcare Foundation and the Clinton Foundation, all of whom are providing additional funding.
Reviewing the entries (which I strongly urge you to do, even if it's just the "Describe your project in one sentence" portion), I marvel at the breadth and cleverness of the ideas. They address healthcare concerns on every scale, from a small town ("Connecting to Create a Health Vibrant Cavendish, Vermont) to nations and all of humanity.
Some ideas are somewhat fanciful (e.g.:  The Happiness Initiative; An app that seeks to be "the Gym, Vitamin Store and Spa for your brain"; A website connecting people to "local laughter clubs"; The first use I've seen of the term "medicotainment"; Promotion of Advaita Vedanta theory, which asserts that this universe is a projection). Others have a better chance (in my opinion) of obtaining funding.
Some highlights:
• The Environmental Toxic History Project would "crunch data taken from government records, record historically significant information about former military sites, and overlay maps of cancer clusters to inform communities about historical toxins and to examine possible health effects."
• A social media driven Doppler-style map of common illnesses, "informing local communities in real-time about regional disease outbreaks with supplementary information about precautions and prophylactic remedies."
• A service that helps people donate their anonymized health records, for research purposes, upon their death.
• A web-based lifestyle change program to help truckers lose weight and prevent diabetes.
• A public site "where consumers and investors can instantly check companies' giving to the charities with the highest proven health impact."
One more I couldn't resist:  A company that has been granted a patent enabling it to be called the "eBay" of healthcare.
The entry phase closes September 17th. Winners will be announced by the end of the year. I'll write about them in a future blog.
Thanks to Chris Seper at MedCity News for this story tip.