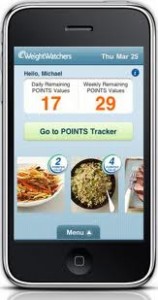 Weight Watchers recently announced a 16% decrease in second quarter earnings. Their stock price is down nearly 20%. Their CFO's explanation? "We feel some of that is driven by the continued sudden explosion of interest in free apps and activity monitors."
Ya think?
The irony is that the goal of Weight Watchers and many of the mobile app developers is identical:  To get people to eat sensibly and exercise regularly. But in some ways, Weight Watchers appears to have been emulating the slow-moving, over-laden people they've been catering to since 1963. Weight Watchers has been figuratively sitting on the couch when they should have been actively identifying and figuring out ways to run as fast (or faster) as the new competitors eroding their bottom line.
The competition in this market space is brutal
It's particularly lamentable to a marketer like me. Weight Watchers has name recognition and a reputation for effectiveness that nearly every mobile activity monitor start-up would kill for. Heck, with 2012 revenues of $1.8 billion, it seems reasonable that they should be among the strongest market leaders in this space. Weight Watchers does, of course, have a mobile application and it appears to address the main parameters important to Weight Watchers subscribers (such as "nearest weight watchers meeting"). But compare the number of Weight Watchers subscribers (approximately 763,000) with, say, mobile activity app MyFitnessPal, with over 40 million users.
I don't mean to single out Weight Watchers. The competition in this market space is brutal. Product development and marketing costs are prohibitive. New players come in to the field constantly. Consumers are numerous but fickle, and with so many apps being free or nearly so, can afford to be.
Still, the lure of an exploding market and the attendant potential of huge sales and profits keeps the players in the game. Established fitness-associated companies (such as Weight Watchers and Nike, for example) need to capitalize on their powerful reputations and produce mobile apps consistent with their brand standards. Startups will rely on unique insight and innovation. This is a Gold Rush. There will be big winners and big losers. But Gold Rushes don't last forever.